Directory
Stuck in someone else's frame? Click here to get out.
The Main Page
The Members of the StarCraft
On Promotions and Responsibilities
What StarCrafters Should Know
Some Things on Knots
StarCraft Logs
Harper's Tale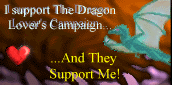 StarCraft Logs
Ali has an index of logs at her webpage that detail much of the life of one of our favorite Starry-Turned-Dragonriders.